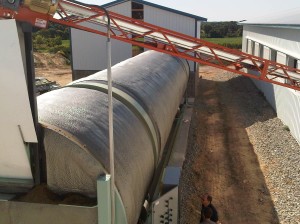 The newest XACT BioReactor is ready to ship to a Wisconsin Dairy Farm which will allow these dairymen to compost the manure and sell it!  Smart thinking–because now, not only do they make money from the milk, but also from the manure too.
The BioReactor is 10′ diameter x 60′ long; it weighs 83,000 lbs; has a capacity of 120 cubic yards (based on 70% of total) and will hold 150,000 lbs of waste.  The composting protocol utilizes a 4-day retention period processing about 30 cubic yards per day.
The 150,000 lbs of manure will be turned 240 TIMES PER DAY, and will be driven by  4 Friction Drives–each one being only 3 hp.  So amazing….but it is true!
Please get in touch if you would like to see the XACT BioReactor when it is up and running or simply want to learn more.  Many thanks.  D