The BioReactor Makes Ecological and Economical Sustainability Possible.
Sustainable organic waste management–in the real world–has to converge 2 notions of sustainability.  The 1st is ecological sustainability and the 2nd is economic sustainability.  With XACT's BioReactor composting technology, this dual purpose sustainability is not only possible but profitable!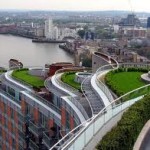 Let's consider, for example, the green roof industry.  A building owner chooses to have a green roof installed.  Construction begins using a soil substrate for the plants.  What if the soil substrate included compost made from organic waste which was generated by the occupants and/or operations of the building itself?   Now that is an exciting sustainable concept!
This is where the BioReactor enters the picture.  The BioReactor is ideally suited to an urban setting.  because the:
• Waste is quickly processed with automatic feeders and off loaded with no on-site peripheral contamination.
• Equipment meets OSHA Safety Standards.
• Remarkably small electric motors power the drive(s) so that the operation is quiet.
• The BioReactor has a professional finish and the installation is pristine in appearance.
By composting solid organic waste (food waste, paper, leaf and yard waste etc.) with the help of the BioReactor, you can turn raw waste into rich pathogen-free, sanitized compost in 4 to 7 days.
Plus, soil amended with good quality compost produces healthier plants. This picture compares 2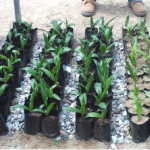 types of plantings.  The 3 rows of plants on the left were placed in pots in soil that had been amended with compost and the single row of plants on the right were placed in pots with soil only.  The difference in the health of the plantings is clearly visible, and there is much scientific study and data to prove the benefits of compost for plant better growth, and better resistance to pests and drought to be true time and time again.
No doubt by now, you have figured out  the economics/cost savings with respect to the:
Heating costs of the building
Maintenance costs of the green roof
Haulage costs of the waste material
and so on and so on!
Typically, the BioReactor will pay for itself in under 3 years which is better than industry standard.
This is just one example of how the BioReactor can make sustainable organic waste management both ecological and economical. Please feel free to get in touch with us to explore these opportunites for your next project. Many thanks, D.