What advice would you give someone who is starting up a new composting operation?  Assuming all the permitting and funding are in place, there are still challenges in the running of the site that will have to be dealt with.  For my part, the best advice I would give is to choose the XACT BioReactor technology because it eliminates or minimizes most of the remaining challenges of the composting process such as: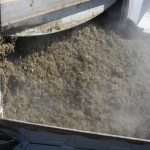 Odor control

Leachates
Weather related issues
Power consumption
Fuel costs
Land requirements
Maintenance costs
Manpower requirement
Vector attraction
Poor compost quality
Temperature control
Plus, get the C:N ratio and the moisture right, and in 4 to 7 days, the BioReactor makes great compost!  Because of this, typically, the BioReactor will pay for itself in under 3 years making in one of the best investments in the industry today!  This bit of advice, if taken, will get you started in the right direction.  XACT Systems does more than supply equipment, we support you from the very start to be successful in the business of composting.  Chose wisely my friend.