Composter Rotating Drum Technology is Destined For China
This Model 515 BioReactor Composting System (BCS) will be utilized as a Demo Unit For Pilot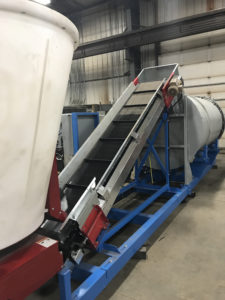 Projects in all market sectors based in China. It is equipped with the essential components and complete automation features required for most composting facilities….essential that is if the goal is to obtain high quality mature compost in 4 to 7 days!
The Model 515 BioReactor Composter Rotating Drum Technology
The BioReactor is a rotating drum composter that has a load capacity of 70% of the total volume of the drum. This composter is 5' diameter x 15' long. It features a fixed, spring-loaded in-feed end with an opening for loading; a fixed, spring-loaded output end with an automated discharge auger or door; a rotating vessel supported by 4 trunnion wheels, a Friction Drive (.75 HP motor), and a negative ventilation fan.
The Mixer
A mixer is needed in order to pre-blend all the feedstocks so that a homogenous mixture of all the materials is obtained. This Mixer is equipped with cutting blades to slash the feedstocks in order to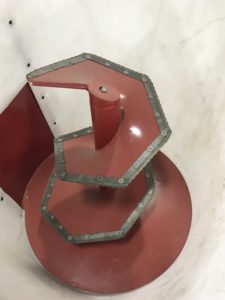 reduce the particle size. The capacity of the mixer used on the Model 515 BCS is 50 cubic feet and has a:
Galvanized steel frame
Polyethylene drum
4-Point weigh scale system
DG Scale indicator w/highly visible LED display
One 10 HP electric motor,
Hydraulic auger drive with dedicated pump
The Conveyor
The BCS is equipped with a heavy-duty automated incline conveyor fortified with a cleated belt. The cleated belt prevents the pre-blended organic waste from sliding back down the conveyor as it is being automatically loaded into the BioReactor.
The Control Panel
The control panel monitors the composting process and controls the function of the mixer, the conveyor and the BioReactor. This is accomplished by the Timer/PLC Control on the Control Panel. Complete control of the system is thus at the finger tips of the operator.
Rotating drum operation

Load capacity

Start, stop, speed of rotation
Discharge auger operation
Negative ventilation fan-start, stop, speed
Internal temperature monitoring (Maintains ideal temperature range)
Mixer operation

One operator can handle the entire composting process because of the automated features of the BCS.

Load capacity

Duration of operation
Conveyor operation

Unloading mixer, loading BioReactor