Composting Multiple Organic Waste Streams Separately?  No Big Deal
Composting multiple organic waste streams separately is no big deal.  Do so with a very small footprint and in just 6-7 days–so now there is something to talk about!   This is all  possible with the BioReactor Composting Technology by XACT Systems.


This installation is operating with 3 BioReactors in order to quickly compost multiple waste streams (slaughterhouse sludge, hatchery waste, wood chips).  2 of the composters are permanently situated and each is composting a different organic waste. The smaller third composter is temporarily in place to conduct trials of various other organic waste streams.   As you can see, these vessels are housed under a single roof.  The land requirement for this composting system is pretty small compared to other methods of composting which would require a large acreage to compost the same amount of waste.
How the BioReactor Composting Technology Works:
The BioReactor  is an in vessel rotating drum that provides the perfect environment for the composting process to take place which means that the composting process happens very, very fast.   Small Land Requirement:   These larger 2 units are 10′ x 60′ (3m x 18m). Heat:  The continual rotation of the BioReactor controls the temperatures of the composting process in optimal range.  Oxygen:  Plus, ALL the tumbling waste material is exposed to the oxygen in the air at all times, so decomposition process is completely aerobic.  Capacity:  The BioReactors can process large volumes of waste per day…in this case each vessel is processing 22 tons per day.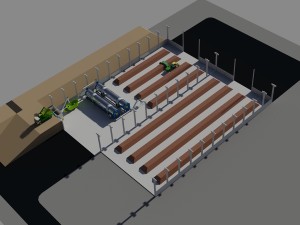 Composting multiple organic waste streams separately? No big deal–so please get in touch by phone (613-399-5686) or email to learn more!
http://www.intecnial.com.br