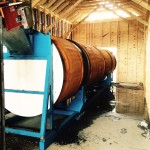 Manure composting equipment at Pete and Gerry's Organic Egg Farm, supplied by XACT Systems Inc., allows these innovative organic farmers to manage their poultry manure with the same approach/philosophy as they apply to all their farming practises: reducing pollution, maintaining healthy soil, and conserving water and other precious resources.
Pete & Gerry's Organic Eggs has been farming for four generations. They are totally committed to producing the highest-quality, freshest eggs possible. Organic eggs means that no antibiotics, pesticides, herbicides, fungicides, GMO or animal by-products are used.   In addition, Pete & Gerry's is a values-led company, dedicated to humane treatment of animals–no cages–with free range barns.  The company is a champion of small family farms believing that these kinds of farms are the best stewards of environmental sustainability.
The manure composting equipment chosen for the job is the BioReactor Composting System built by XACT Systems Inc.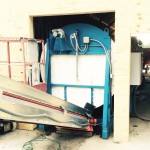 Always looking to the future, Pete & Gerry's wanted to test an idea they have for producing compost from the poultry manure.  They want to capitalize on the marketing potential of this specialized compost–possibly as an organic soil amendment.   The BioReactor is 6′ diameter by 30′ long (1.8m x 9 m) and has a total processing capacity of 22 cubic yards (16 cubic metres).
Waste Materials: Poultry Manure, Sawdust, Dried Grass Clippings
Volume of Waste Materials per day: 6 cubic yards
Length of time in BioReactor: 4 to 6 days
This pilot project to test XACT's manure composting equipment and producing great compost is just nicely underway and so far the results are promising.  Stay tuned for more updates as the trial continues.