Manure composting technology has proven economic and  environmental advantages.  XACT Systems' Manure Composting Technology — The BioReactor is proving to be a wise choice by farmers in all animal farming operations including dairy, beef, horse, poultry and fish.  How many farmers think that composting manure is a good manure management strategy?  If so, how many farms are now using manure composting technology?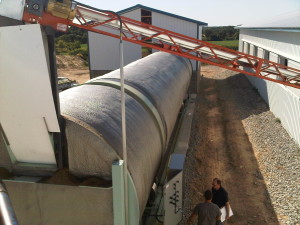 Economic Advantages of XACT's Manure Composting Technology:
Return on investment for BioReactor is better than typical industry standards
Hauling costs are reduced
Commercial fertilizer costs are reduced
Bedding costs are reduced
Added revenue income (from selling extra compost)
Time and labor savings
Lower power/energy requirements
More efficient water utilization
Environmental Advantages of XACT's Manure Composting Technology:
Risks of spills and run-off are eliminated
Healthier soil with increased organic matter and beneficial microbes
Drought resistant crops
Reduced complaints re: odor
Suppresses plant disease
Controls erosion
Controls weeds
1700 Cow Dairy Composts Dewatered Manure for Bedding
The XACT BioReactor on this dairy operation is 10' diameter by 60' long. It has to turn 45 to 50 tons of dewatered cow manure 240 times per day, 365 days per year.  After taking a look at the robust mechanical characteristics of the XACT BioReactor drum and the heavy duty drive system, this dairy operation was confident in the ability of the XACT system to handle the staggering weights of waste material to be processed daily. Check out all the specs for the BioReactor by clicking on xactsystemscomposting.com/bioreactor/.
Dewatered cow manure is fed into the vessel by a conveyor. Because the infeed opening is located in the upper quadrant of the stationary infeed end, the BioReactor can be filled to 70% capacity. Remarkably, a 7.5 hp variable speed drive turns the BioReactor and its load.
After a 4-day retention period in the vessel, the discharged compost is taken back to the barn to be used as bedding for the herd. Upon discharge the compost is pathogen free, weed seed free, insect larvae free, and odorless. At this point the compost is about 50% moisture, and therefore as it gets blown into the stalls there is minimal airborne dust. Most importantly, the cows love it as it provides exceptional comfort.
Please share your thoughts about composting manure.  Many thanks, D.