So, you want to compost organic waste in an in-vessel rotating drum composter.  Great!  While you are checking around for a vessel to purchase, there are 2 things you need to keep in mind in order to calculate the real capacity of any composting vessel:
1.  Where is the waste being input in the vessel? Typically, conventional composting vessels must have the infeed in the center of one end of the vessel and you can only fill the vessel to this level.  Logic will tell you that the vessel can only be filled to 50% of the total capacity.
The XACT Vessel is different because the infeed is in the top left quadrant of the end vessel and this is accomplished because the end of the vessel itself does not turn as do conventional composting vessels.  This means the vessel can be filled to 70% capacity.  That is 20% more!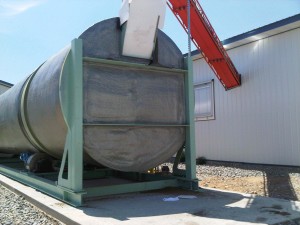 2.  The formula to calculate the capacity of any vessel is:
pi x L x r x r
pi=  3.141
L= length of the vessel
r = radius (the measurement from the centre of the vessel to the side; take the diameter and divide by 2)
So let's try an example using a vessel that is 8′ diameter x 40′ long and we want our answer to be in cubic yards:
3.141 x 40′ x 4′ x 4′  = 2010.24 cubic feet.
2010.24 cubic feet divided by 27 = 74.45 cubic yards
Now, take in to account whether the vessel is capable of being filled to 50% its capacity or 70%.
50% of 74.45 cubic yards = 37.22 cubic yards
70% of 74.45 cubic yards = 52.11 cubic yards.
The XACT 8′ x 40′ composting vessel will hold a 14.89 (52.11 – 37.22) more cubic yards than a conventional 8′ x 40′ composting vessel.
So, now you know!  Please get in touch with us to help you get your project under way.  Many thanks.  Doreen