Compost Slaughterhouse Renderings & Carcasses completely using the BioReactor by XACT Systems.  It makes sense for an organic beef operation to choose to compost the renderings from its slaughter house because this method of organic waste management jives with the overall objectives and philosophy of the organic meat industry.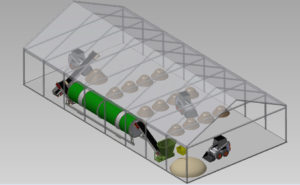 This type of composting system (using multiple rotating vessels) can be scaled to any size to handle any volume of waste material/amendments.  The BioReactor is available in many sizes.  The smallest BioReactor is 5′ diameter x 10′ long while the largest is 10′ diameter x 60′ long (1.5 m diameter x 3m long) to 3m diameter x 18 m long).
Site Layout Description
In this particular scenario, the entire operation is inside (this is not always necessary for all facilities).  In order to compost slaughterhouse renderings & carcasses, the waste/amendments are loaded into a mixer.  The purpose of this initial step is to blend the various waste materials into a homogenous mixture.  This mixture is then discharged onto a conveyor and conveyed up to the infeed opening which is located in the upper quadrant of the end of the BioReactor.  The BioReactor has fixed ends.  A consequence of this unique feature allows the vessel to big filled to 70% capacity.
Another unique feature of the BioReactor are the Blending Bars.  The rotating drum turns SLOWLY and this rotation with the help of the Blending Bars causes the mixture to tumble inside.  This tumbling action greatly facilitates the aerobic composting process.  There is ample oxygen available to the naturally occurring aerobic bacteria and they thrive–multiplying their population exponentially–and decomposing the waste material at a phenomenal speed.
In addition, the high temperatures (thermophilic) required to compost any waste successfully are easily maintained by the BioReactor using the Negative Ventilation Fan.  This fan is located at the discharge end of the BioReactor and can be ducted into a BioFilter if odour control is an issue.
When ready for discharge, the discharge door/auger opens/unloads the compost onto an incline conveyor.  Then the compost is piled and stored for a short term curing period.  Skid steers are used to handle the piles as needed.
Typically, the length of time from start to finish is under 30 days.  To learn more about various possibilities of a composting operation check out www.xactsystemscomposting.com